Lake Louise Vacation: Hiking Lake Agnes
Lake Louise is truly a gem of Banff National Park and the Canadian Rockies, offering great hikes like Lake Agnes.
It doesn't have the hustle and bustle that Banff townsite does, and gives you the feeling that you're really in the middle of the wilderness of the Rockies. During the winter, Lake Louise ski area is one of the best places to go out riding on your skis or snowboard in all of the Rockies, and it is equally beautiful for biking, or even just taking the Gondola to see some great views of nature and wildlife. But hiking is probably one of the biggest summer Lake Louise vacation highlights.
And Lake Agnes is one of the most popular and most rewarding hikes you can do in Banff National Park.
The Lake Agnes Trail is an easy hike, perfect for families and people of all hiking ablities. All you need for this walk is a bottle of water and some decent, light shoes. We recommend a camera too, but it's not strictly necessary.
The first 1.6 km is a very easy, and at the same time mesmerizing as you trek through subalpine forest. If you have an interest in trees and vegetation, you are more or less going to be in heaven here! At 1.6 km, you will see views of Fairview Mountain and can usually see a few more extreme hikers who have crawled to the summit to get unique views of gorgeous Lake Louise.
You'll start seeing Lake Agnes at about 3.5km. The origin of the name of the lake is actually quite interesting. Two ladies – Agnes Knox (A Toronto elocutionist) and the Prime Ministers wife Lady Agnes MacDonald both believed they would be the first woman to be shown the lakes.
As luck would have it, both shared the same first name making it easy to name the stunning Lake. Equally stunning in winter and summer, Lake Louise in Banff National Park is an absolute gem and hiking Lake Agnes is a great way to truly see why.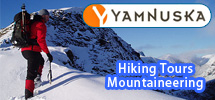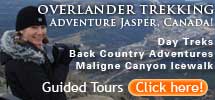 For further information on guided tours in the Canadian Rockies, fill out the blue form on the right side of this page.