Lake Louise Hotels and Accommodations
Advance reservations are strongly recommended for the summer season, and for all national and international holidays. During ski season, advance reservations are recommended at all Lake Louise, Field and Area hotels. Visitors to the banff and Lake Louise area may also choose to stay in the mountain community of Canmore, which offers additional accommodations and is located just 15 minutes east of Banff.
Fill-out our Cabin Rental Booking Request Form now!
BANFF, ALBERTA – Art-Eco Lifestyle Hotel offers the best mountain views due it's exclusive location at the base of Mount Norquay, only 2 kms from downtown Banff. This designer hotel features fifty-two accommodations including chalets with kitchens and king jacuzzi suites. Free wireless, bike rentals, outdoor hot tub and full service Bistro, Lounge and Patio. The Juniper is Banff's only 100% clean energy hotel and is a leader in environmental initiatives.
Website: Click here!
Banff's Rundle Ridge Chalets
CANMORE, ALBERTA – Rundle Ridge Chalets has 44 cozy cedar cabins located along the Rundle Mountain Ridge in the Hamlet of Harvie Heights between Canmore and Banff, Alberta. Come Enjoy Banff National Park's finest cabins. Rundle Ridge Chalets is located amongst the majestic Canadian Rockies and is within minutes to ski sills, lakes, trails for hiking or cross country ckiing, rivers and waterfalls all just outside your Cabin door.
Website: Click here!
CANMORE, ALBERTA – Welcome to Stoneridge Mountain Resort, nestled among the majestic Canadian Rockies in Canmore, Alberta and just 15 minutes to Banff and Banff National Park. Enjoy our luxury suites Our accommodations offer comfort, space, and the perfect oasis for your next mountain vacation or business conference. Our Canmore resort is just a few minutes from Downtown Canmore.
Click here for Stoneridge Mountain Resort of Banff & Canmore
CANMORE, ALBERTA- Canada – Falconrest Lodge of Banff, Albert offers luxurious mountain accommodations located within minutes of Banff National Park. The Falcon Crest Lodge in Canmore offers the perfect setting for your next Rocky Mountain Retreat. As one of Canmore's finest hotels, Falcon Crest Lodge allows you to indulge with our hotel features and amenities including granite countertops, fluffy duvet comforters, pillow-top mattresses and unparalleled service. Just 15 minutes from Banff and close to golf, ski and the best things to do in the Canadian Rockies.
Website: Click Here!
JASPER, ALBERTA – Overlander Mountain Lodge is known as a tranquil retreat, one that can be as active as you like with year-round activities at your doorstep. Choose from a range of accommodation, including suites and private cabins. The on-site Stone Peak Restaurant showcases regional cuisine artfully prepared and accompanied with a six time award winning wine list. To preserve serenity, a getaway at the Lodge means there is limited wireless, TV or phone access. Pet-friendly rooms available. The Lodge hosts small meetings and weddings as well.
Website: Click here!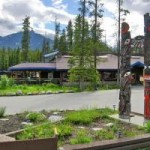 JASPER, ALBERTA – Fine dining, friendly staff, complimentary holiday planning, and a 1400lb, walking, talking Grizzly Bear! Yes, you read right. Sunwapta Falls Rocky Mountain Lodge is a great choice for nature-loving families who want to add a touch of excitement to their Canadian Rockies vacation. Whether dining in our restaurant, checking in, or shopping in the Gift Shop, the Sunwapta Falls Rocky Mountain Lodge is happy to share insider recommendations and favorite areas of Jasper National Park.
Website: Click here
JASPER, ALBERTA – The Fairmont Jasper Park Lodge is a deluxe hotel located 225 miles from Edmonton International Airport and 275 miles from the Calgary International Airport. The lodge is a full-service resort with many on-site activities available.
Website: Click Here!
JASPER, ALBERTA – Whistlers Inn of Jasper, Alberta is centrally located in the heart of the Jasper National Park townsite and within walking distance of all shops, and outdoor activities. Our Jasper Inn boasts a cozy Jasper Canadian Rockies alpine atmosphere and features 63 spacious guest rooms for accommodation, many with breathtaking views of the surrounding Canadian Rockies ranges.
Website: Click here!
BANFF, ALBERTA – The Banff Inn offers modern hotel accommodations located on Banff Avenue, only minutes away from the downtown shops, restaurants and many of Banff's attractions. The Inn features well appointed, renovated standard guest rooms as well as rooms with jacuzzi tubs, loft units, king rooms and honeymoon suites. All guest rooms are non-smoking and have complimentary wireless service, confidential voice mail and individually controlled air conditioning and heating.
Website: Click Here!
BANFF, ALBERTA – Conveniently tucked away between world famous Banff and Lake Louise, you will find a holiday gem among Lake Louise accommodations. Enjoy the charm and hospitality and honest values that have been our signature for over sixty years. Click here to start your vacation!
Website: Click here!
BANFF, ALBERTA – The perfect getaway! Cozy wilderness cabins and main lodge, with close proximity to Banff and Kootenay National Parks and Assiniboine Provincial Park. This is an EcoLodge; self-sufficient, environmentally friendly, and role models true stewardship of the land. The heritage cabins are each individually decorated complimentary to mountain life. The main lodge provides delicious freshly prepared home cooked meals and Wow! they have some of the best hiking in the rocky mountains.
Website: Click here!
RADIUM, ALBERTA – Nipika Mountain Resort borders Kootenay National Park and offers guests a recreational playground right out the front door of our luxurious lodge and cabins. Nipika is a remarkable eco lodge inviting guests to retreat, relax and recreate. Cross-country ski, mountain bike, hike or run on our endless trails out the front door. Fish, canoe, kayak or raft the nearby Kootenay River. Or just sit on the porch and watch wildlife graze on the meadow.
Website: Click here!
Kicking Swan Manor
FIELD, BC – A small comfortable Lodge located in Field B.C., a unique place in the heart of Yoho National Park – only 20 min to Lake Louise and 40 min to Golden. Dramatic mountain views all around. Tastefully decorated guest rooms with private bath, queensize beds and cable television. Large family unit with full kitchen. Some kitchenettes.
Website: Click here!
Book Hotels in Lake Louise Thru TravelNow.com
Promo Code: 266526
The Lake Louise Inn In Alberta, Canada, Features A Lush, Natural Setting Close To Nature Trails, Scenic Points And Lakes. Shopping Is Available At Samson Mall, Within One-half Kilometer Of The Hotel, And 30 Kilometers Away Is The Majestic Johnson Canyon.
The Deer Lodge Is Secluded Within A National Park Near Lake Louise Village In Alberta, Canada. The Lodge Stands One Kilometer From Hiking Trails And Six Kilometers From The Lake Louise Ski Hill.
The Deer Lodge Retains Much Of Its Original Hand-hewn Log Features And Décor, While Architectural Structures Have Been Restored. A Stone Fireplace Glows, While A Cedar Sauna Banishes The Evening Chill.
The Fairmont Chateau Lake Louise Sits Eight-stories Tall On The Shores Of Lake Louise. Surrounded By The Canadian Rocky Mountains, The Hotel Is Adjacent To The Plain Of The Six Glaciers Trail. The Hotel Is Less Than Five Kilometers From The Parks Canada Information Center And 10 Kilometers From Lake Louise Mountain Resort.
Location.
The Post Hotel & Spa Is Located In Lake Louise, Alberta.
2.5 Kilometers From Lake Louise
Four Kilometers From Lake Louise Ski Resort
Hotel Features.
Full-service Health Spa
Restaurants And Extensive Wine Cellar
Ski Shuttle And Storage
Standing At The Base Of A Placid Aquamarine Lake Beneath Yoho National Park's Towering Cliff-faced Mountains, The Rural Emerald Lake Lodge In Field, British Columbia, Represents An Ideal Rocky Mountain Escape Within 30 Kilometers, Or 20 Miles, Of Lake Louise Ski Hill And Even Nearer Pristine Waterfalls And The Canadian Pacific Railroad's Famous Spiral Tunnels. Outdoor Adventure Seekers Can Enjoy Snowshoeing, Cross-country Skiing, Hiking Alo