Hikes in Banff National Park: Take Your Pick of Prime Canadian Rockies Trails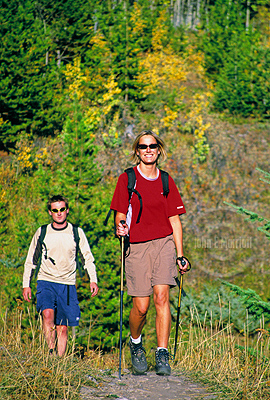 With 6,641 square kilometers of land including snow-capped mountain peaks, valleys carpeted in conifer forests, glaciers and alpine meadows, needless to say there are plenty of opportunities for hiking and multi-day trekking in Banff National Park.
Whether you are looking for strenuous hikes with panoramic views of the Canadian Rockies as a reward, or more leisurely strolls that will offer you plenty of chances to indulge in nature and wildlife photography, there is a hike in or around Banff that is for you.
Fortunately there are many hikes just a short car ride outside of the Banff town; we've listed several of the most popular ones here; just follow the links below or in the center column on the right.
There are of course a multitude of other hikes and trails in Banff National Park, most of which originate in the Bow Valley between Banff town and Lake Louise. These trailheads are located along the Trans-Canada Highway, the Bow Valley Parkway, and Highway 93 Icefields Parkway.
If you're interested in a guided hiking tour with a group or hiking on a private guided tour, these things are available with many of the local tour operators.
Or for further information on guided tours in the Canadian Rockies, fill out the blue form on the right.
click here for

200 – 50 Lincoln Park
Canmore, Alberta

---

---

click here for

Call Toll Free (888) 659-3394 or local 403-774-7219
211 Bear Street
Bison Courtyard
Banff, Alberta

---

---