Banff Town Recreation Facilities – Sometimes, You Just Want to Toss the Football and Have a Picnic
Outdoor recreation opportunities are boundless in the Canadian Rockies and Western Canada, as are those for extreme sports. But sometimes you just want to play catch or toss the old football around, you know? Or maybe get family and friends together for a game of softball and cookout. Then head down to Banff.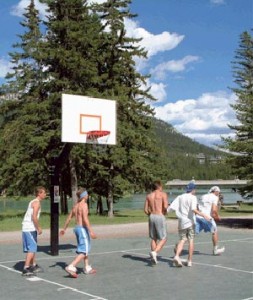 Banff town has plenty of places to play and facilities for traditional recreation available all year long and regardless of the weather. In the summertime you can play baseball or have a picnic at the Recreation Grounds for example. From May to October, the Banff Recreation Grounds are the place to be for softball, soccer, rugby, tennis and basketball, Frisbee, kite flying, staff and birthday parties or any other type of group gathering. In the wintertime the grounds play host to skating, curling and, of course, hockey (this is Canada, you know).
The Banff Recreation Grounds include:
• 3 ball diamonds
• rugby/soccer field
• 3 shelters & multiple picnic sites
• outdoor surfaced basketball court
• 2 playgrounds
• washroom facilities
• 2 tennis courts
• a skate park featuring steel-framed surfaces covered with Skatelite sheeting
The grounds are located just a few minutes from the Banff Avenue bridge, on the west side of the Bow River.
Banff Recreation Centre
In the wintertime you can head to the Banff Recreation Centre on Mt. Norquay Road (before you reach the Trans-Canada Highway interchange). The centre is Banff is the hub for hockey and skating; it is the town's only indoor winter ice facility
2010/2011 Public Skating Schedule
(effective Monday, November 15, 2010)
Tuesday, 1:30 – 3 p.m.
Wednesday, Noon – 1:30 p.m.
Friday, 1:30 – 3 p.m.
2010/2011 Shinny Schedule (Full equipment is required)
Tuesday, Noon – 1:15 p.m.
Wednesday, 1:45 – 3:15 p.m.
Friday, Noon – 1:15 p.m.
2010/2011 Public Skating and Shinny rates
Adult drop-in $4.50
Senior drop-in $3
Child drop-in (18 and under) $2
Adult ten-punch card $37
Skate rental (under 14 years) $3.50
Skate rental (over 14 years) $4.50
For more information call 403.762.1235 (recorded message) or call Margaret at 403.762.1238. Dates and ice times may change without notice.
Sometimes It's Nice to Just Go Outside and Play
How about just turning the kids loose for a few hours at a playground? There are a number of playgrounds scattered around Banff that are appropriate for a range of ages and offer lots of opportunities for fun. The newest facility, at Banff Central Park, even features a climbing experience.
Other Banff playground locations include:
• Rotary Park
527 Banff Ave (designed for ages 2 – 5)
• Banff Elementary School
327 Squirrel St (designed for ages 5 – 12)
• Central Park
Buffalo Street at Bow Avenue (structure designed for ages 5-12)
• Banff Recreation Grounds
Sundance Road (designed for ages 2 – 5)
• Birch Avenue (designed for ages 2 – 12)
• Park Avenue (designed for ages 2 – 12)
• Middle Springs Drive (designed for ages 2 – 10)
• Jasper Avenue (designed for ages 5 – 10)
And don't forget Banff Central Park for other diversions as well. Central Park. It's the perfect spot to enjoy a picnic, listen to an outdoor concert, toss the Frisbee or just relax. It's even a popular place to get married! Located alongside the Bow River, Central Park is a scenic home for outdoor cultural activities and public art. It's facilities include:
• gazebo
• parkland
• picnic tables
Click here for more information on Banff activities, boutique hotels, resorts and other accommodations.