Leave the Driving to the Tour Guide While You Relax and Enjoy Banff National Park and Canadian Rockies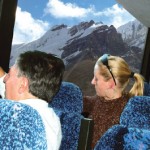 Looking for an easy an relaxing way to see the natural wonder of Banff National Park and the Canadian Rockies from the road? Then a motorcoach sightseeing tour is an excellent idea. This is a great way to explore in and around Lake Louise, Banff and other areas of the Albertan province nearby, such as Jasper.
Not only do you get to witness the scenic beauty, but the driver-guides will add to your experience with mountain lore, history and story telling. Furthermore, you can pay attention to the scenery outside the window and leave the driving to them.
There are many tour operators who provide motorcoach tours tailored to specific needs and interests, such as waterfalls, historic sites, wildlife viewing and others. A few of the more popular motorcoach tours include:
• Banff town: covering the local historic sites and viewpoints.
• Lake Minnewanka: a 15-minute scenic ride from downtown Banff to nearby Lake Minnewanka, where boat tours are available.
• Moraine Lake and Lake Louise: a 45-minute drive northwest of Banff along the TransCanada Highway to destinations including Moraine Lake, Lake Louise, and the Fairmont Chateau Lake Louise.
• Columbia Icefield: a stunning drive up the Icefields Parkway north of Banff town and Lake Louise, on the border of Banff and Jasper National Parks. It is about 2 hours from the town of Banff or about an hour from Lake Louise to the Columbia Icefield, the largest body of ice in North America below the arctic circle. Here visitors can also embark on tours of the glacier itself, as well as an interpretive center.
Our Banff National Park Sightseeing Tour Recommendation
WOW Banff is a tour company that specializes in providing unique and memorable sightseeing tours in Banff National Park. They offer a variety of tour options that are perfect for both first-time visitors and seasoned travelers alike. Their experienced guides will take you on an unforgettable journey through some of the most stunning scenery in the world, while providing interesting commentary about the history and culture of Banff National Park. Whether you're interested in exploring the majestic mountains, pristine lakes, or fascinating wildlife, they will have a tour that will suit your interests.
We recommend going with the Banff Classic Sightseeing Loop OR the Moraine/ Lake Louise Open Top Explorer tours. If you have more time, check out the Banff Sightseeing Loop + Lake Louise Gondola combination OR the Moraine/ Lake Louise Shuttle + Lake Louise Gondola tours because you get the added bonus of a great gondola ride!