One of the great things about being so far north and high up in the Rockies for Lake Louise skiing is that there's a really long spring skiing season. Now, a lot of snow snobs might roll their eyes at the though of sloshing around in sloppy snow, but these folks have forgotten how to have fun in the Rockies.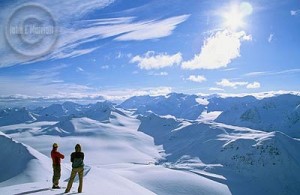 Ever skied in a T-shirt? On a warm spring day, it's just as fun as it sounds. Spring is great for getting out and doing some plain fun riding. And wet snow, even though it's not quite the thrill of fluffy powder, is still fun to ride on in it's own way. It's also great for spraying your friends if they get to the bottom of the hill first.
And if you want to mix some entertainment with your day of skiing or snowboarding, Lake Louise is an excellent spot for this. Skiers and snowboarders are joined by families and sun lovers who drive up for the day to watch skiers ride while they sip a beer in the sunshine. Often times this activity is accompanied by fine music from our local bands. As you're taking your last turns on a beautiful spring day, you can often hear the tunes calling you in for a drink.
Lake Louise has lots of other great things about it, of course. It is such a big ski hill that you never feel at all crowded, despite the huge numbers of people that flock here every year for the awesome snow and terrain. The scenery is easily the best in the Rockies, and you can take some of the best photos to make friends envious and curious at why you are wearing only a shirt on top of a snowy mountain.
The runs have all been excellently taken care of and there are no queues for any lifts or gondolas. I guarantee that a day out in Lake Louise in spring will be one of the best you will have all year. The season is fast coming to a close though so hurry up! See you on the slopes.