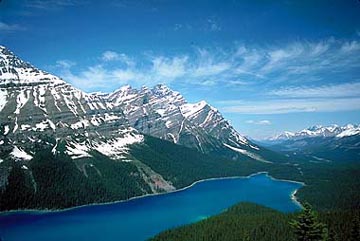 Peyto Lake © Just one of the side trips recommended by the editors along the Icefields Parkway.
Stop at the interpretive signs. Many of the viewpoints have displays that explain more about the area.
Stretch your legs at one of the short trails along the way. Not only does Bow Summit offer one of the most famous views in the Rockies (Peyto Lake), but also a short interpretive trail that meanders through high elevation meadows. In early summer, this is the only way to see alpine wildflowers without a serious hike. Mistaya Canyon is a 10-minute walk through forest to a stretch of deeply eroded canyon that features potholes worn into the rock. The beginning of the Glacier Lake trail allows you to poke around on the banks of the North Saskatchewan River.
Have an ice cream and stare in amazement at the postcard selection at The Crossing Resort's gift shop.
Look for wildlife along the way. On a good day in May and June (while there is still a lot of snow high on the mountains), you can often spot every large mammal that the Rockies has to offer — right next to the road. During the rest of the summer, your chances are still good to see animals, especially early and late in the day. Drive carefully. A number of good, pocket-sized books are available about the mammals of the Canadian Rockies.
In winter, be sure to have a full tank of gas, food and water when you take this trip. All services are closed.
THE Picnic
Pack a delicious lunch to eat outdoors.
The parkway is the wildest part of banff National Park and features nature at its most intense and beautiful. You'll be in a car for much of the trip and what better way to experience this place than to eat while fully immersed in it.
There are picnic areas at Herbert Lake, Bow Lake, Saskatchewan River Crossing, and below Mt. Coleman. Or, bring a blanket and find a quiet and secluded spot by driving into a campground or stopping at a trailhead where you can walk a short distance away.