There can be nothing more beautiful than a spring trip to the mountains. You hit the trail, immerse yourself in the sounds and colors of nature awakening at this time of the year. And nothing can be worse than spending the day in a pair of boots that are uncomfortable or leaky. Trust me – a pair of the wrong shoes can turn the most pleasurable trip into a nightmare. Choosing the right footwear can mean the difference between a good time or a bad one – and these tips will help you make your choice.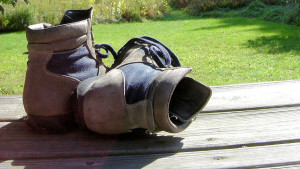 If your plan is to go for a walk in the forest, something light with frequent pit stops in the shadows, you don't necessarily need hiking boots. Most of the times a pair of resistant, comfortable sports footwear will do. Unless you find hiking boots to be the most comfortable option. Choose the right footwear for light hiking, backpacking or heavier trails.
Hiking or trail-running shoes are perfect for day hiking. These are low-cut shoes with flexible midsoles, perfect for long-distance or short, light journeys.
Hiking boots are also a great choice for day hikes or short backpacking trips. These can have a medium or high cut, often flexing easily, but lack the durability and the support of more serious models.
Backpacking boots are designed for heavier loads and longer trips, most of the time with high cuts wrapping around the ankles. They are supportive, durable, suitable for off-trail travel.
Mountaineering boots are maybe the strongest, most resistant variety. They have stiff midsoles and are more massive, designed to accommodate crampons for glacier travel, and to carry heavy loads.
One of the most important aspects to keep in mind when choosing hiking boots is to go with the most comfortable option fit for your needs. When choosing your boots, make sure they are a good fit – even walking in a pair of uncomfortable shoes can be hell. Make sure to choose the right material, too. Leather boots need more time to break in, and are not as light and breathable as synthetic materials, but they are better for extended trips and heavier loads. Synthetics are lighter, easier to break in, they dry faster and they are cheaper – but they also wear down more quickly. Waterproof is always a good choice – wet feet are not something you want to have on a longer trip.
Finally, a quick tip: make sure to try your new boots at the end of the day. The feet usually swell a bit during the day, and by the end of it, they are at their largest. This way you can make sure they will fit all day long.