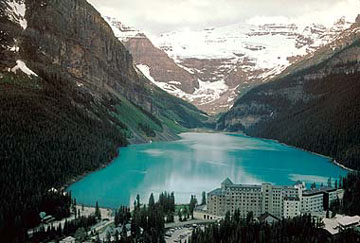 © Lake Louise with the Chateau in foreground
Everyone's immediate goal is to get to the world famous view at the lakeshore. But why not build in some anticipation? You'll only be a virgin once, so timing is crucial! To make this moment the best it can be, you must avoid the lakeshore from 10 am to 4 pm (in summer), when the crowds are at their peak.
We recommend spending time doing other things first, like getting to your accommodation, settling in and checking out the immediate surroundings. To fill in your itinerary for day one, check the list of ways to "Round out Your Lake Louise Itinerary" below. One anticipation-building option is to pick up a copy of Jon Whyte's "Lake Louise: A Diamond in the Wilderness" for a colourful foretaste of Lake Louise's history and delights (Woodruff & Blum, Lake Louise Shopping Mall or Mountain Lights, Lake Louise Chateau).
Then, as the day is drawing to a close, maybe even after dinner in summer, drive up to the Lake Louise parking lots and quietly make your way to the main viewpoint. If you enjoy a bit of exercise and are staying in the village, it is very pleasant to walk up the Louise Creek trail (45 min), or, to x-country ski or bike up the Tramline trail (25 min), letting the experience unfold a more leisurely pace. Your mind will relax and be ready to take in the peace (and even awe) that evening in the mountains can offer.
Lake Louise: The Hiking Capital of Canada
Lake Louise has many nicknames: the Hiking Capital of Canada, the Skiing Capital of Canada, the Romance Capital of Canada (tied with Niagara Falls), the Diamond in the Wilderness, the Jewel in the Heart of the Canadian Rockies. Finally, we're also the Highest Community in Canada at 5,020 ft (1530 m).
Hiking is fabulous here because you already start very high in elevation. It doesn't take long to break out to views. There are over 200 km of trails in the immediate Lake Louise area and many more nearby. And we've got something for everyone — from trails flat as a board to trails that take you to the summits.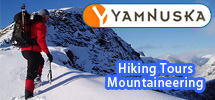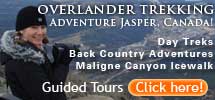 For further information on guided tours in the Canadian Rockies, fill out the blue form on the right side of this page.

Click the logo for short side trips and stops on this tour