Canoing, Hiking, Tours, History: Let Lake Louise Show Your Wedding Guests the Time of Their Lives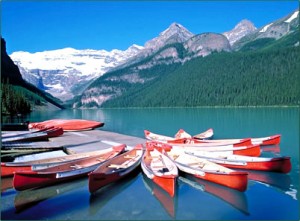 When you're a wedding guest, as opposed to the bride and groom or immediate family, weddings sometimes aren't that much fun – especially when you have to travel somewhere to attend. That's another great thing about a wedding in Lake Louise: there is no end of things to do for your guests.
In fact, by planning ahead, you can make sure your guests get the most out of their Canadian Rockies trip, and make your wedding more fun at the same time.
Make Your Wedding Trip a Bonding Experience
Ciara Daykin, wedding planner and owner of Firefly Occasions, suggests the bride and groom plan group activities for guests. "Your guests will all feel like they are friends by the time the wedding actually happens." She notes that guests will want to get out and experience Lake Louise anyway, and by planning group activities, the bride and groom can create a bonding experience for their guests without incurring extra cost. "You don't have to pay for everything, you just have to have it organized," she says.
One Trip for the Adrenalin Junkies, One for Those that Just Want to Relax
Daykin recommends setting up two separate trips that will appeal to a broad range of guests, say whitewater rafting and guided sight seeing. Afterward, she says it's good to have reservations made at a local restaurant, where your guests can get together and talk about their day over a great meal. "There are phenomenal restaurants in and around Lake Louise," she notes. "These places know how to cater to a large group."
Below, you'll find a list of information to help you and your guests plan their stay in Lake Louise, Banff National Park, and the Canadian Rockies.
Accommodations
Everyone in your wedding party should be able to find the right accommodations in and around Lake Louise. If people want to experience the unspoiled wilderness that surrounds Lake Louise and experience alpine living, there is Skoki Lodge, for example. A quiet, cozy mountain cabin? Paradise Lodge and Bungalows is as good bet. Need to impress your spouse's parents? Put 'em up in Fairmont Chateau Lake Louise, a fabulous resort hotel right on the shores of Lake Louise.
Activities
If your guests complain that they're bored on their trip here, please check their pulse. There is no shortage of hikes, drives, sights, tours and other activities in and around Lake Louise to keep them busy, entertained, and out of your hair during their stay in the Canadian Rockies. Skiing, hiking, whitewater rafting, canoing and kayaking, sightseeing — there's no end to the recreation opportunities here.
But What About the Less Adventurous?
But what will guests do if they aren't into hiking, mountain biking and playing hard outdoors? Not to worry, there is plenty of things to do here, even if you don't ski or hike. There are horse-drawn sleigh rides in winter, plenty of tours to take in winter or summer by car or bus that will still let your guess take in the natural beauty of Lake Louise and Banff National Park. This is also a great place for train and history buffs — the mountains are also a great place to go fossil hunting!