Lake Minnewanka to Devil's Gap: a Trail for Canadian Rockies Scenery and Easy Over-night Backpacking in Banff National Park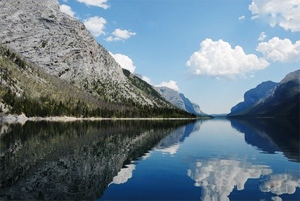 At nearly 30 kilometers from the end of the lake to Devil's Gap, this is a long but beautiful trail – particularly in the late spring or early autumn. Unless you're planning on doing an out-and-back, you'll want to bring a backpack, tent and related gear for a multi-day trip.

This trail starts out the same way as the Aylmer Pass hike, at the Lake Minnewanka parking and picnic area. You start at the west end of Lake Minnewanka and proceeds along to the north shore for about 20 kilometers, with little change in elevation. Along the way you'll cross Stewart Canyon as well.
There are plenty of places to camp along the way; one of the first options is to hike up the first part of the Aylmer Pass trail to the Aylmer Pass campground. As the trail approaches the east end of the lake, you'll witness a graduation to more vegetation that is typically Canadian Rockies alpine – pine groves interspersed with wildflowers such as brown-eyed Susans, harebells and western wood lilies.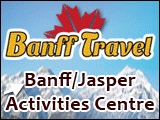 Once the trail moves beyond the end of Lake Minnewanka, it soon encounters the shore of the first Ghost Lake, following a channel which then connects that lake with the second one. You can ford this channel and hike eastward to Devil's Gap or turn right and follow another trail 9 kilometers back to the south shore of Lake Minnewanka.
This is also an excellent place for cross-country mountain biking; the entire length of the trail is open to mountain bikes.
To get to the trailhead, from the interchange of the Trans-Canada Highway and the Banff East Exit follow the Lake Minnewanka Road 5.5 kilometers to the parking area at the lake.
click here for

200 – 50 Lincoln Park
Canmore, Alberta

click here for

call toll free: 888-659-3394

211 Bear Street
Bison Courtyard
Banff, Alberta