Our Favorite Swimming Holes Just Outside Banff, Canda, in the Canadian Rockies
Banff, Alberta, and Banff National Park one of the best destinations in the Canadian Rockies for outdoor recreation, and that includes water sports – but not just fishing, boating, whitewater rafting and kayaking; there are plenty places to swim as well.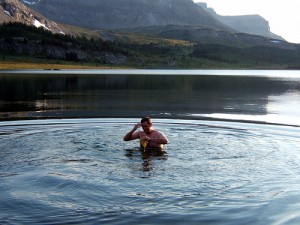 Of course your hotel or resort may have its own pool. But what about swimming in the great outdoors? While it is true that some of the lakes and rivers around Banff are glacier fed, which makes them plenty chilly even in the summer months, there are a few favorite local swimming holes around Banff – and the various hot springs, of course.
Cascade Ponds
This is one of our favorite spots, as it is with many locals. It's a perfect spot to get together with friends and family when the weather is warm for a dip, a cookout, a picnic, and just hanging out. The water is shallow, and there are plenty of grassy areas – it's perfect for families with young children.
The Cascade Ponds swimming area includes:
public washrooms
covered picnic shelter with wood stove
outdoor picnic tables with fire pits
walking trails
beach area
To get to the Cascade Ponds area, take the Minnewanka loop road from the interchange on the Trans-Canada Highway a few kilometers northeast of Banff. This narrow, winding road takes you to the following popular places, including Cascade Ponds day use area.
Johnson Lake
This lake is larger and deeper than Cascade Ponds, and during the warm summer months, it is popular with picnickers, hikers – there are several trails winding through this area –, sunbathers, fishermen, and swimmers. There is a large sandy beach here, as well as a shallow wading area, which makes it another family favorite.
The Johnson Lake recreation area includes:
outhouse facilities
outdoor picnic tables
a hiking trail around the lake
fishing
sandy beach area
a rope swing located on the opposite side of the lake
To get there, take the Minnewanka loop road as if you were going to Cascade Ponds as explained above. Further on a road branching off the loop runs to Johnson Lake.
A word of warning to the wise: these are not municipal swimming pools, but rather natural lakes. Swimming in them us unsupervised, so please be careful; there are no lifeguards on duty.
Click here for more information on Banff activities, boutique hotels, resorts and other accommodations.