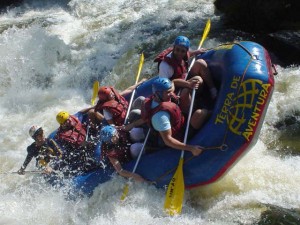 Whitewater Rafting and Float Tours: Enjoy a Relaxing Float or Thrilling Canada Whitewater in Banff National Park
You can enjoy a sedate float tour or you can get flush with adrenaline and see what you're made of – figuratively speaking (we hope) – on the rivers in Canada's Banff National Park. One of our recommendations is a Kicking Horse White Water Rafting adventure, a must for the whole family! Either way, it's an excellent way to cool off in the summer months.
Float Tours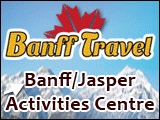 Epic whitewater not your thing? Looking to relax on your holiday or vacation getaway in the Canadian Rockies? That's no problem, there are several popular float tours offered in and around Banff:
Canadian Rockies Rafting offers a three-hour Bow River Eco-Float. This is a nice and leisurely river float with excellent opportunities for wildlife viewing, as well as a stop for viewing of wildflowers and other flora. There are also early evening options, which not only offer the unique opportunity to enjoy the river as alpine twilight descends, but the chance to witness increased beaver activity. Experienced river guides provide interpretive information along the way.
Rocky-Peak Holidays offers a one-hour Hoodoos Float Tour. This float launches beside Bow Falls and lands beneath the north face of Mount Rundle. It includes an interpretive presentation by the rafting guide. Bus pick-up is available from The Banff Park Lodge 15 minutes prior to tour departure or the Banff Springs Hotel five minutes prior to departure. Otherwise, meet at the launch site.
Rocky-Peak Holidays also offers a two-hour Rundle Float Tour, which launches from the base of Mount Rundle's towering North Face and covers a section of the Bow River where wildlife, waterfowl, and wildflowers are abundant. At the end of the float, a 15-minute walk returns the group to the bus. Hotel pick-up and drop-off included.
If hard boating is more your thing, there is also plenty of opportunities for canoeing and kayaking in Banff National Park. Click here for more information on whitewater rafting in Banff National Park and the Canadian Rockies.
To arrange an easy rafting trip or an epic whitewater adventure on the Kicking Horse River, we can recommend the adventure specialists and guides at Banff Travel.
Click here for more information on Banff activities, boutique hotels, resorts and other accommodations.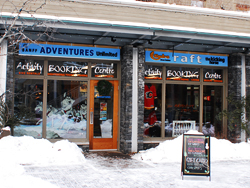 click here for Banff Travel
call toll free: 888-659-3394
211 Bear Street
Bison Courtyard
Banff, Alberta