Carriage Rides: The Most Romantic Way to See Scenic Banff, Canada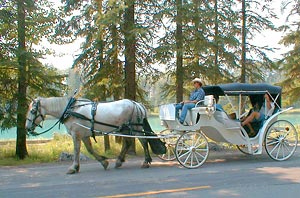 There is no more romantic place than Banff. Fresh mountain air and unparalleled scenic natural beauty in every direction, coupled with luxury resorts, spas, and boutique hotels make it the perfect romantic getaway or lovers' holiday. And there is no better way to tour Banff town than in your own horse-drawn carriage.
A tradition in Banff, carriage tours of Banff's picturesque locale are available on a first come, first served and can be arranged at the Trail Rider store at 132 Banff Avenue. Choose from 15-minute, 30-minute, and hour-long options. Carriage tours are run by Warner Guiding & Outfitting – Holiday On Horseback in Banff.
Custom carriage tours can also be arranged, featuring your choice of pick-up and drop-off locations, length of tour, number of passengers. So if you're looking for a place to pop the question, come to the Canadian Rockies!
Click here for more information on Banff activities, boutique hotels, resorts and other accommodations.