Scale the Glaciated Alpine Ranges of the Continental Divide in the Canadian Rockies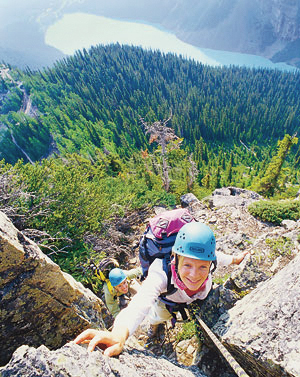 Banff National Park includes a huge section of the Canadian Rockies range from the crest of the Continental Divide along the British Columbia-Alberta border on the west, nearly to the edge of the prairies on the east.
This tremendous mountainous terrain makes for excellent rock climbing and mountaineering in Banff National Park.
Local climbers distinguish between the higher, often glaciated alpine ranges along the continental divide, and the slightly lower, drier ranges to the east. The Trans Canada Highway provides the main east-west route through the park with access to the town and service centers of Banff and Lake Louise.

A park highway, which parallels the main Divide Range from Lake Louise to Jasper, offers some of the most spectacular alpine peaks and glaciers on the continent.
Popular Mountain Climbing Sites in Banff National Park
Moderate-Level Climbing in Banff
Cascade Mountain and Mt. Rundle: near Banff townsite and Mt. Fairview in the Lake Louise area, popular for scrambling.
Mts. Edith and Cory: each located close to the road near Banff for roped rock climbs and attractive peaks, popular for scrambling.
Moderate to Difficult Level Climbing in Banff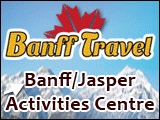 Lake Louise and Moraine Lake: the High summits around these areas provide some of the most popular alpine climbing areas in North America, they contain everything from moderate scrambles to the most serious alpine faces. Extensive trails provide excellent access. This is a good area in which to focus an initial summer climbing trip to the Canadian Rockies.
Castle Mountain: west of Banff offers a number of steep rock routes on gritty dolomitic limestone.
Mt. Louis: has challenging multipitch limestone rock climbs and a spectaculer, spirelike summit.
New to rock climbing or would like to take some lessons and try the sport on for size? Want to climb with a guide with intimate knowledge of the local routes? Contact Yamnuska Mountain Adventures or Banff Travel.
click here for

200 – 50 Lincoln Park
Canmore, Alberta

---

---

click here for

call toll free: 888-659-3394
211 Bear Street
Bison Courtyard
Banff, Alberta

---

---