Enjoy the Beauty of the Canadian Rockies in Winter with a Guided Ice Walk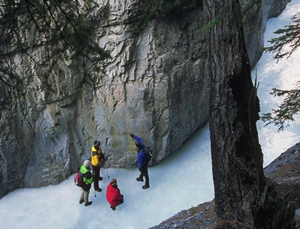 If you've read through these pages on winter activities in Banff National Park and the Canadian Rockies, you've seen a lot about extreme outdoor sports – ice climbing, heli-skiing, Nordic skiing, snowboarding, and the like. But if you don't want to go big, that's okay, it certainly doesn't mean you have to go home.
Sometimes it's nice to to just walk outside and admire the natural beauty that has blessed this area of Western Canada, home to several national parks, including Banff and Jasper National Park to the north. Even in winter, the frozen, snow-covered alpine peaks and valleys are beautiful and, if anything, the air is even fresher.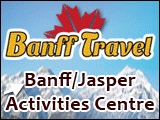 So if heli-skiing and ice climbing isn't for you, how about ice walking? Many of the tour operators in and around Banff, as well as Lake Louise, Canmore and Jasper offer ice walk tours; they will typically supply crampons or ice cleats and hiking poles, as well as some hot chocolate (that's our favorite part, to be honest).
Ice walks are a great way to see the beauty of the Canadian Rockies in winter up close and personal; it also gives you the chance to see the wildlife of the region. Although the bears hibernate through the winter, and some of the birds fly south (of course), many of our animal denizens remain active year around.
We can recommend Banff Travel; the adventure specialists there can hook you up with a variety of ice walks in and around Banff National Park, including night-time walk to Stewart Canyon Bridge and along the shoreline of Lake Minnewanka. If you've ever been near or camped near a frozen lake at night then you know the sound of the ice as it contracts in the cold evening air makes for some unique and even spooky sounds.
Click here for more information on Banff activities, boutique hotels, resorts and other accommodations.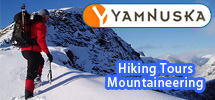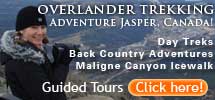 For further information on guided tours in the Canadian Rockies, fill out the blue form on the right side of this page.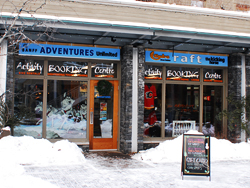 click here for
Banff Travel
call toll free: 888-659-3394
211 Bear Street
Bison Courtyard
Banff, Alberta