In the Canadian Rockies Summer there is Rock Climbing. In Winter it's Ice Climbing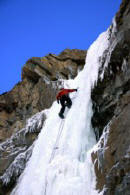 You've heard of rock climbing and mountaineering, and there is plenty of both here in Banff National Park and the heart of the Canadian Rockies. But in winter time, the climbing doesn't stop for some people, and if you're interested, you can go ice climbing too.
Ice climbing is just what it sounds like – using ropes and protection to climb ice, as opposed to rock.

There are two different types of ice, so to speak, when it comes to ice climbing, and you can find both in the Canadian Rockies: alpine ice and water ice. Alpine is ice is just what it sounds like: frozen water on the side of a mountain formed by precipitation. Water ice – yes, we know all ice is water ice, but we're talking about ice climbing here, not grade school science class – is water frozen in a flowing formation, usually a waterfall.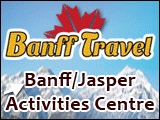 With all of the mountains, the long alpine winters, and all of the rivers, lakes and consequently water falls to be found in the Canadian Rockies, ice climbers are spoiled for choice here. There are many guiding companies that will be happy to take you out for a day of ice climbing around Banff, Lake Louise, Canmore or Jasper.
We can recommend Banff Travel; the adventure specialists there can arrange half or full day lessons and ice climbs for everyone from beginner to advanced. They work with guides who will take you to climbing locations including Grassi Lakes , King Creek, Haffner Creek and Johnston Canyon; where you go depends on how challenging of a climb you are looking for. Don't worry; Banff Travel will provide boots, crampons, ice tools, harness and helmet; you just have to bring your sense of adventure and fun.
We can also recommend Yamnuska Mountain Adventures for an ice climbing adventure in Alberta's Rocky Mountains. The experts at Yamnuska offer both instruction programs as well as private guided climbs for beginners, intermediate and advanced climbers. Sign up for day, weekend, and five-day courses, as an individual or a group/family. Yamnuska also offers ice climbing as part of its three-month Yamnuska Mountain Skills Semester program.
click here for

200 – 50 Lincoln Park
Canmore, Alberta

---

---

click here for

call toll free: 888-659-3394
211 Bear Street
Bison Courtyard
Banff, Alberta

---

---