Just Because it's Winter Doesn't Mean the Hunt for Lake Trout Stops: Ice Fishing in the Canadian Rockies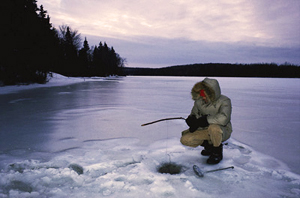 Fishing gets in your blood, they say. Sometimes, so much, that not even temperatures well below freezing and arctic conditions can keep fishermen from their appointed lakes and streams.
Needless to say, in and around Banff, Canada, even in the depths of winter, anglers get the urge. Although ice fishing isn't permitted on lakes within the boundaries of Banff National Park, there are nearby lakes where you can get your winter angling on in the hunt for lake trout and Rocky Mountain whitefish, among others.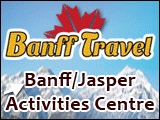 Several Banff-based outfitters offer ice fishing, or vertical jigging as its called, from December through May, depending on ice conditions, obviously. What better way to fish on a frozen, ice- and snow-covered alpine lake set in the middle of the Canadian Rockies, than in the comfort of a heated hut with your favorite hot beverage at arms length?
Outfitters typically provide hotel pick-up and drop-off, fishing equipment and special winter outdoor gear and clothing (i.e. ice boots), fishing licenses, snacks or or meals and hot beverages. We recommend the ice fishing guides at Banff Travel.
So remember, we can't guarantee you'll catch fish – but we can guarantee you'll see some of the most beautiful winter wilderness the Canadian Rockies has to offer.
Click here for more information on Banff activities, boutique hotels, resorts and other accommodations.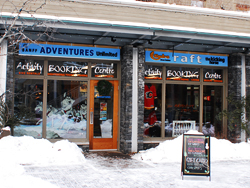 click here for
Banff Travel
call toll free: 888-659-3394
211 Bear Street
Bison Courtyard
Banff, Alberta