Taste Olympic Cross Country Skiing at Canmore, or Take it Easy Just Outside Banff in Canada's Rocky Mountains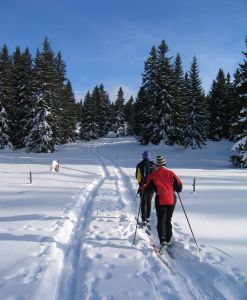 The area in and around Banff, Canada and elsewhere in Banff National Park features some of the best walks and hikes of anywhere in the Canadian Rockies, when it comes to scenic beauty. Whether you are looking for a short, easy day hike or a multi-day trek through unspoiled wilderness, there is a trail for you here – in the summer.
In the wintertime, when snow blankets the ground, these hiking trails are transformed into some of the greatest cross-country skiing – or Nordic skiing, if you prefer – in the world. Whatever you're looking for, it's not far from Banff, be it classic track-set cross-country and groomed skate-skiing trails, or untracked backcountry trails, hut-to-hut traverses, telemark slopes and rugged ski mountaineering routes.

For most recreational skiers, the cross-country ski season runs from December through March here in Banff National Park. But the snow begins to fall in earnest in November by the middle of the month our local Nordic skiers and competitive athletes are usually hitting the trails, particularly those north of Banff.
Easy-to-moderate cross-country trails in or near Banff:
Cascade Fire Road, from the Lake Minnewanka parking lot
Spray River Loop, from the Banff Springs Hotel trailhead
Sundance Canyon, starting from Cave and Basin Historic Site
Banff Springs Golf Course, from the Bow Falls parking lot
Bow River, from the Canoe Docks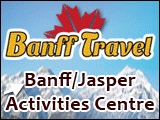 Of course if you want to stay in Lake Louise, there are plenty of trails for great Nordic skiing, which will not only give you a great workout, but let you enjoy the beautiful alpine scenery of the Canadian Rockies in winter.
Popular trails in Lake Louise:
Moraine Lake Road
The Great Divide (Highway 1A)
Bow River Loop, starting near the Station Restaurant
There is also a series of scenic cross-country trails accessible from the top of the Sunshine
Village Gondola (note that there is a fee for the gondola ride).
If you need assistance arranging a cross country ski outing in Banff National Park, whether you need equipment rental, transportation or a guide for a long hut-to-hut ski tour, contact either Banff Travel or Yamnuska Mountain Adventures. These adventure specialists will fix you up with whatever you need for your Nordic adventure in the Canadian Rockies.
click here for

200 – 50 Lincoln Park
Canmore, Alberta

click here for

call toll free: 888-659-3394
211 Bear Street
Bison Courtyard
Banff, Alberta