Make Your Scuba Diving more Challenging: Try Ice Diving in the Canadian Rockies!
Yes, you are reading that correctly. We keep telling you, you really can do it all in and around Banff, Canada, and Banff National Park. If you can do it outdoors, you can do it in the Canadian Rockies, and that includes ice diving.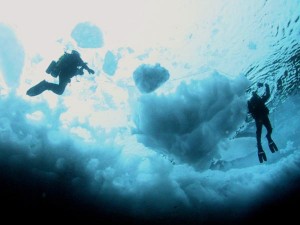 Not heard of ice diving? It's just what it sounds like: scuba diving under ice. The primary diving site in Banff is just outside of town at Lake Minnewanka.
Parks Canada places special restrictions on ice diving in the park. Namely that means all dive groups (both private and commercial) must obtain a Restricted Activity Permit (RAP) prior to ice diving in Banff National Park. Permits, guidelines, dive sites, and proposed dates must be reviewed ahead of time with a Park Warden. There are other guidelines and rules as well, mostly designed to protect the marine environment.
Click here to find out more about scuba diving in Lake Minnewanka and why it attracts divers from all over.
Click here for more information on Banff activities, boutique hotels, resorts and other accommodations.