Climbing the Canadian Rockies in Winter: That's What Ski Mountaineering is All About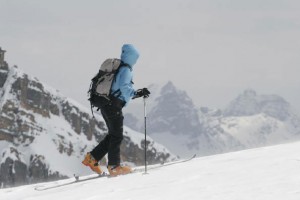 You've heard of mountaineering, and you've heard of skiing – we've got both here in Banff National Park and the Canadian Rockies, of course. But we've also got what you call ski mountaineering.
Ski mountaineering is just what it sounds like: a sport that combines the skills and techniques of skiing – Nordic, downhill and telemark – with those of mountaineering. Ski mountaineers are typically willing to tackle any sort of surface they may come across on the mountain – snow, of course, but not just powder; rock and ice. This is what distinguishes the sport from ski touring.

In fact ski mountaineers may also use the equipment used in traditional mountaineering when they're not on skis: crampons, ice axes, protection, and ropes. Most of the time they are on skis – these skis and boots typically have binding that allows the heel to lift similar to Nordic skis and boots — but the mountaineering equipment may come out of the pack when skiers come across the an otherwise inaccessible part of the mountain.
It's a great way to see the alpine beauty of the Canadian Rockies and Western Canada in winter. And there is no better chance to see wildlife during the winter months than out in the backcountry wilderness.
Sound like fun? Sound like a challenge? Then come to Banff and try ski mountaineering on for size. Many tour companies can provide you with guides and equipment rental. If ski mountaineering sounds like a bit much, there is always traditional cross-country or backcountry skiing and hut-to-hut traverses.
Yamnuska Mountain Adventures offers a number of tours, programs and packages for your Canadian Rockies backcountry ski trip. These include instruction courses for both backcountry/cross-country skiing and ski mountaineering, as well as avalanche safety.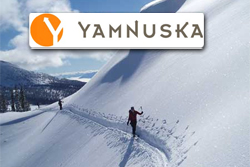 click here for
200 – 50 Lincoln Park
Canmore, Alberta, Canada