Ski and Snowboard Atop the Continental Divide in Canada's Rocky Mountains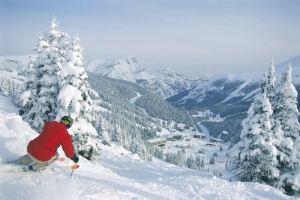 Just 15 minutes from downtown Banff in the Canadian Rockies Banff National Park, the Sunshine Village area has been popular with tourists since the 1890s. It wasn't until the 1930s, however, before people began coming to Sunshine Village for the downhill skiing.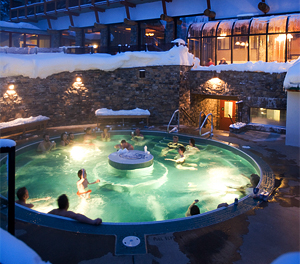 By 1939 the resort here had hired its first ski instructor, the first rope tow followed in 1941 on Strawberry Hill; this was replaced by a ski lift in 1952. Today there are 107 ski runs and 12 lifts spread out over three mountains: Goats Eye, Lookout and Standish. These runs cover some 3,358 acres, or about 13.6 square kilometers of ski-able terrain that straddles the border between Alberta and British Columbia – not to mention the Continental Divide.
While at its highest point on Lookout the ski area is at an elevation of 2,730 meters, Sunshine Village is at 2,160 meters, providing the slopes with a vertical drop of 570 meters. To get to the tops of the various runs there are is a gondola, ten chair lifts (6 high-speed quad chairs, 3 fixed grip quad chairs, 1 double chair) and two magic carpets.
The cozy Sunshine Mountain Lodge, an 84-room boutique hotel is located in the Village, which is situated at the treeline in the vast center of the snow bowl that serves as the surrounding ski and snowboard area. While the Mad Trapper's Saloon inhabits the oldest building in the Village – a log cabin built in 1928 – all of the amenities and accommodations in the Village were renovated just a few years ago.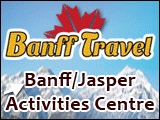 Sunshine Village is unique among Banff National Park's ski areas in that is the only ski-in/ski-out hotel; you can't access it via motor vehicle in winter – we mentioned it gets about 1,000 centimeters of snow, yeah? Think about that … that's 10 meters, or nearly 35 feet!
So how do you get there in the winter months? You can take the gondola mentioned above, although there are snow vehicles if you have to arrive late. You can drive and park at the parking lot at the base of the gondola or take a bus from Banff for a cost of about $15 – free if you score a Tri-Area Lift Ticket. Getting to the gondola parking lot is easy; its just 8 kilometers west of Banff town on the Trans Canada Highway – Highway 1. Just look for the Sunshine Village access road exit.
Of course the easiest way arrange ski outing to Sunshine Village, whether you need equipment rental, transportation or lift tickets, is to head to Banff Travel. The adventure specialists there will fix you up for any skiing destination in Banff National Park.
Click here for more information on Banff activities, boutique hotels, resorts and other accommodations.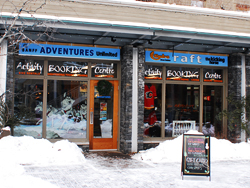 click here for
Banff Travel
call toll free: 888-659-3394
211 Bear Street
Bison Courtyard
Banff, Alberta