Ski or Snowboard the Big 3: Downhill in the Canadian Rockies' Banff National Park
So, you like to ski, or snowboard, or both. Well then, we've got nearly 8,000 acres of skiable terrain; dry, light powder; and one of the longest ski seasons in the North American continent: from mid November to late May. Yes, you can spend half the year here on the slopes!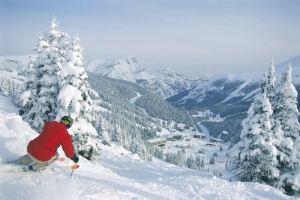 The Canadian Rockies, and in particular Banff town and the village of Lake Louise, are meccas for skiers and boarders from all over the world who come here to enjoy and ski Banff National Park's Big Three — three world-class ski resorts, that is: Mount Norquay, The Lake Louise Ski Area and Sunshine Village. There is something for everyone here, from gentle bunny slopes for you greenhorns, to some of the most extreme in-bounds alpine skiing to be found anywhere in the world.
You don't even have to bring your own gear; you can rent downhill ski and snowboard equipment from several gear rental outlets in Banff and Lake Louise, as well as at the resorts. But if you do bring your own skis, boots or board, these same places offer technician services for tuning and repairs.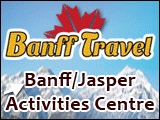 Now we know after you check out the following links on these three excellent ski venues, you are going to have a tough time deciding which place to go. People around here have the same problem. But not to worry: Tri-Area Lift Tickets are available, offering unlimited access to Mount Norquay, Lake Louise Ski Area and Sunshine Village; night skiing at Mount Norquay (January to March); and return shuttle transportation between many hotels and the resorts.
Pretty sweet, huh? Banff National Park is the perfect place for your winter skiing or snowboarding vacation or holiday getaway.
Getting Around the Slopes
Shuttle transportation is available between the ski resorts and many hotels in Banff and Lake Louise, and as mentioned above shuttle bus service is included in the cost of Tri-Area tickets. If you don't spring for a Tri-Area Lift Ticket, bus fares are additional. Check with your hotel or resort, however; some Lake Louise hotels offer complimentary shuttle services to Lake Louise Ski Area. If you are staying at Sunshine Village, well, its got on-hill accommodations.
Of course the easiest option to arrange all of your skiing needs, be it equipment rental, transportation or lift tickets, is head to Banff Travel. The adventure specialists there will fix you up for any skiing destination in Banff National Park.
For More Info on Skiing the Big 3
in Banff National Park:
If you need a guide or an outfiitter for your skiing vacation in Banff National Park or a Canadian Rockies getaway, we can recommend Banff Travel.
Click here for more things to do in Banff.
Click here for more information on Banff activities, boutique hotels, resorts and other accommodations.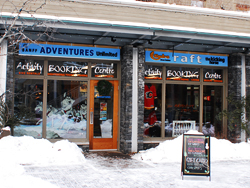 click here for
Banff Travel
call toll free: 888-659-3394
211 Bear Street
Bison Courtyard
Banff, Alberta