Enjoy the Beauty of the Wintery Canadian Rockies the Old-Fashioned Way: With a Horse-drawn Sleigh
Just hear those sleigh bells jinglin', ring ting tinglin' to
Come on it's lovely weather for a sleigh ride together with you
The snow is fallin' and friends are callin' "you-who"
Come on it's lovely weather for a sleigh ride together with you

Around Banff, Canada and Banff National Park, it's not just the winter holidays that bring the lovely weather for horse-drawn sleigh rides; the season here lasts from mid December – in time for a romantic holiday of course – until early April. That's weather- and snow-permitting of course, but then usually they are.
During the heart of these winter months the warm and cheerful sound of sleigh bells can be heard echoing through the valleys of both Banff and Lake Louise; it's a popular pastime with both residents and visitors alike. It's an excellent way to see the scenic winter wonderland that the Canadian Rockies become in wintertime.
Banff sleigh rides travel along the frozen Bow River and feature views of the surrounding mountains and snow filled forests. Sleigh rides start at Warner Stables on Sundance Road in the Town of Banff daily, every hour on the hour from 10 a.m. to 8 p.m. Rides are approximately 45 minutes in length, and advanced reservations are necessary.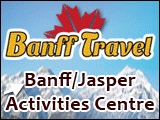 Want to impress your sweetheart? You can't beat a cozy horse-drawn sleigh through the snow, and Banff Travel will help set the mood when you book a romantic sleigh ride for two, including Bernard Callebaut chocolates, liqueurs, and an authentic buffalo robe blanket for warmth.
In Lake Louise, the Brewster Lake Louise Stables sleigh ride travels along the lakeside trail to the end of the lake, with views of the Chateau Lake Louise and spectacular mountain scenery along the way.
To arrange a horse-drawn sleigh ride in Banff National Park, including a romantic private ride, contact Banff Travel. The trip specialists there can hook you up for all your travel needs in the Canadian Rockies.
Click here for more information on Banff activities, boutique hotels, resorts and other accommodations.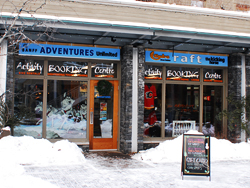 click here for
Banff Travel
call toll free: 888-659-3394
211 Bear Street
Bison Courtyard
Banff, Alberta