Snowshoeing: Hike the Canadian Rockies' Banff National Park the Old-School Way
Back in the old days, before there were horses in North America, there was only one way to get around during winter, and that was to walk. Even after European explorers brought horses, often the only way to get around during the months of heavy snow was to walk with the aid of snowshoes.
Today, of course, you don't need to strap on snowshoes and hit the trail to enjoy the alpine wonderland that Banff National Park becomes in winter – but it is a nevertheless excellent way to enjoy the winter scenery up close. If you want to see the beauty of the Canadian Rockies wilderness in an authentic, traditional way, you can't get much better than snowshoeing. It's also an excellent opportunity for viewing wildlife of the area.
And remember, you don't need instructions or experience – if you can walk, you can snowshoe – and you don't even need any special gear (other than the snowshoes, of course). Like hiking, you can pick a trail that's as easy and relaxing or as challenging and strenuous as you like. And there's something spiritual about the mountain wilderness in wintertime, between quiet, the solitude, and the clean, fresh air. …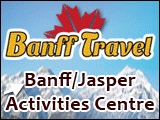 Snow-shoe season generally starts in December and lasts through late March. With the multitude of trails in and around Banff town, here in Lake Louise and elsewhere in Banff National Park, there's no end of possibilities for snowshoeing once the snow falls. Please see the hiking sections for detailed suggestions.
But please be advised: a number of trails in the park are groomed specifically for cross-country skiing. If trails are marked or groomed for cross country skiing, please observe expected courtesy and avoid walking or snowshoeing on those trails.
If you don't want to go it alone, however, there are a number of tour operators who offer guided snowshoe trips (they also provide snowshoe rental). We can recommend the experienced winter sports guides at Banff Travel; they can provide you with whatever you need for your snowshoeing adventure: gear, guides and advice.
As with all mountain activities, it is important to be prepared before you set out to snowshoe. If you have questions about gear, trail etiquette, wildlife, and avalanche safety, please consult Parks Canada.
If you are looking for a guide or equipment rental for your snowshoeing adventure in the Canadian Rockies, consult the specialists at Banff Travel.
Click here for more information on Banff activities, boutique hotels, resorts and other accommodations.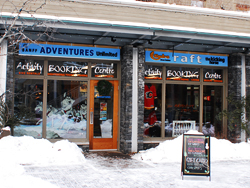 click here for
Banff Travel
call toll free: 888-659-3394
211 Bear Street
Bison Courtyard
Banff, Alberta